The Port Jefferson Yacht Club proudly presents its TENTH Annual Village Cup Regatta to Benefit Pancreatic Cancer Research & Palliative Care.
Saturday, September 7th, 2019
Let the Sailing Challenge Begin!
Climb Aboard as Port Jefferson Village races against Mather Hospital!
Join the fight against Pancreatic Cancer.  Pancreatic Cancer may be man's most deadly cancer with little in the way of effective screening or treatment – five year survival rate of just 8%!
$509,000 given to date by Port Jefferson Yacht Club Foundation since Village Cup inception in 2010.
100% of all donations will be given by the foundation to the Lustgarten Foundation and Mather Hospital
The Village Cup has been applauded by the community with The Port Jefferson Yacht Club being awarded the L.I. Business News "Healthcare Heroes Award" and Mather Hospital's "Theodore Roosevelt Award".
DOWNLOAD OUR 2019 BROCHURE HERE
VCR_2019_Brochure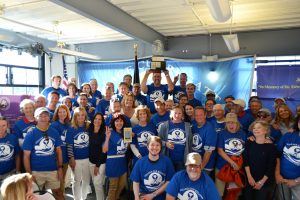 ---
---
Attend this year's celebrations
and view from a Spectator Boat and/or join the party:
Skipper's Reception: $50.00 per person. 3:30 pm at Port Jefferson Village Center located on Surf Avenue, Port Jefferson.
Spectator Boat: $50.00 per person. Spectator boat's check-in at 12:00 pm at yacht club dock located just east of Village Center and Harborfront Park.
Spectator Boat + Reception: $75.00 per person
Sponsorship Requirements and Benefits:
Meet our generous 2018 Sponsors here
Fleet Sponsor $10,000
Presenting Sponsor of the Village Cup Regatta
Six (6) invitations to view the race on a spectator boat, attend the Skipper's Reception at the Port Jefferson Community Center, and the option of having one (1) crew member on one of the racing boats during the event
Company name engraved on the 2016 Village Cup Regatta Trophy
Exclusive entitlement rights, e.g. 2016 Village Cup Regatta presented by "your company"
Prominent logo placement on the SYC web page and recognition in all media releases
Exclusive logo placement on the front of the event T-shirt
Scripted verbal recognition at the event
Company logo featured prominently on the event sponsor board
Premium vendor space at event for promotional use with premium signage at the Skipper's Reception
Admiral Sponsor $5,000
Four (4) invitations view the race on a spectator boat, attend the Skipper's Reception at the Port Jefferson Community Center, and the option of having one (1) crew member on one of the racing boats during the event
Logo placement on the SYC web page and recognition in all media releases
Selected logo placement on the event T-shirt
Scripted verbal recognition at the event
Company logo featured prominently on the event sponsor board
Captain Sponsor $2,500
Spectator Boat Sponsor Benefits:
Two (2) invitations to view the race on a spectator boat, attend the Skipper's Reception at the Port Jefferson Community Center, and the option of having one (1) crew member on one of the racing boats during the event
Sponsor's house flag and sign announcing sponsorship will be proudly flown from the spectator's vessel
Name placement on the SYC web page and recognition in all media releases
Selected name placement on the event T-shirt
Scripted verbal recognition at the event
Company name featured prominently on the event sponsor board
Signage at the Skipper's Reception
Navigation Sponsor $1,000
Racing Vessel Sponsor Benefits:
Sponsor's house banner announcing sponsorship will be proudly flown from the sponsored vessel
Opportunity to have one (1) crew member on the boat during the race
Company name featured on event Sponsor Board
Two (2) invitations to Skipper's Reception at the Port Jefferson Community Center
Helmsman Sponsor $500
Company name featured on Sponsor Board
Two (2) invitations to Skipper's Reception at the Port Jefferson Community Center
Able Seaman Sponsor $250
Company name featured on Sponsor Board
Purchase Sponsorships and Tickets
---