Tuesday Night Spring and Summer Series & Saturday Series
Spring Series Results: Click HERE.
Summer Series Results: Click HERE.
Ladies Day Race Results:  Click HERE.
Join us for a summer of great racing! PJYC operates our own committee boat with a seasoned team of committee volunteers to ensure great racing for both sailors new to racing, as well as seasoned racers!  NO CLUB MEMBERSHIP REQUIRED!
We have our own "Olympic circle" of Marks in the sound just outside Port Jefferson Harbor, giving us great course selection for spinnaker and non-spinnaker boats alike.   We have multiple divisions for Spinnaker and non-Spinnaker racing.  We will have divisions for one-designs such as J/24s and the like if we get enough boats!  Join over 20 of us on the line!
The after-race fun will continue at the club with the bar open, results, nightly awards and watching video of the starts.
Ladies Day Race! Yes ladies, it's your turn! Sunday, August 19th, 3 PM on the PJYC Course.  Click HERE to register and for race documents and details.  Registration is FREE!
"Harbor Cup" – Club vs Club Regatta!  Try for the Cup!  Click HERE for more info!
ON-LINE REGISTRATION:  For all PJYC Racing, click HERE.
NEW CREW BOARD!  Need Crew?  Want to Crew?
---

2018 Race Series Schedule
Spring Series – Tuesday Nights
May 29th
June 5th, 12th , 19th, 26th
July 3rd, July 10th

Summer Series – Tuesday Nights
July 17th, 24th, 31st
August 7th, 14th, 21st, 28th

Fall Series – Saturdays
TBA

ADDITIONAL WEEKEND RACES INCLUDE:
Harbor Cup (See Below) June 16th
Ladies Day Regatta: August 19th
Village Cup Regatta & Fundraiser September 8th
---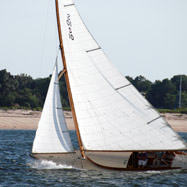 Saturday June 16th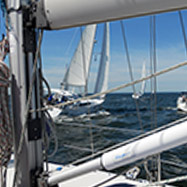 Port Jefferson Yacht Club Village Cup Regatta
Saturday September 8th

---
Racing Documents to Download and Review
Fleet Captain: John Pearson, redskyj105@gmail.com
Additional Information of Interest